Porcelain veneers are the most requested form of cosmetic dentistry here in our Glasgow dental practice. They are designed to mask the poor appearance of stained, discoloured and chipped teeth. Imagine your porcelain veneer is like a false nail, cemented onto your existing tooth, brightening and whitening your smile.
Traditionally they were mostly used for the front six teeth in the upper jaw.
However these days we see far more patients who expect their shiny white smile to extended further than that and to look more natural.
Glasgow dentist Dr Brendan Murphy explains what porcelain veneers are and some of their benefits.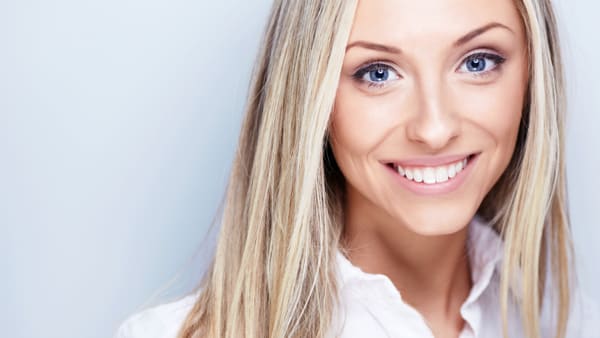 Benefits of Porcelain Veneers
They are comfortable
They are long lasting.
They are cosmetically pleasing.
They are cost effective.
They are low maintenance.
Customised Porcain Veneers
Your veneers are made to exactly your requirements by one of the best dental technician labs in Glasgow.
Once they are ready and before the veneers are fitted – we make sure they have been sized correctly using the impression taken from your own teeth
I'm a very nervous patient, but Dr. Murphy and his team made me feel completely at ease. After years of being self-conscious about my smile, I opted for veneers on my two front teeth and couldn't be happier with the result. My natural teeth were slightly rotated, and I wanted the appearance of better alignment without braces. My biggest aesthetic concern was that the veneers didn't look artificial; I wanted my teeth to retain some character.

Dr. Murphy and his technician delivered exactly what I wanted: more aligned teeth that still had the imperfections you would expect to see with natural teeth. If I'd known how straightforward and painless the process would be, I would have done this a long time ago. Thank you so much for giving me my smile back!
Lisa H, Glasgow
After thinking about cosmetic work for years I recently had eight veneers fitted at Crystal Dental Care. I have never been happier with my smile and cannot thank Dr.Murphy and his team enough for the incredible results! Dr.Murphy and his team put me at ease immediately and the way I was looked after from start to finish was second to none! I would highly recommend Crystal Dental Care and again can't thank them enough!
FERGUS SMITH, Glasgow
Single Porcelain Veneers or a Crown?
Not every patient needs a mouth full of veneers. The hardest restoration in our profession is the single central incisor veneer or crown. It's the first thing you see when you look in the mirror. If that is all that you require, then we are up for the challenge. And there are at least a couple of them in our dental gallery of crowns and veneers, if you can spot them!
How much are porcelain veneers?
Porcelain veneers  including ceramic Emax veneers (the best choice for difficult shade selections which involve matching to other/adjacent  porcelain crowns) cost £397. For more information check out our dental treatment prices.
Porcelain Veneers Case Studies
Check out our illustrated Same Day Porcelain Veneers Case Studies to discover the great results you can achieve in such a short time.
How Long do Porcelain Veneers Last?
Clinical research quotes 8-10 years as an average porcelain veneer's lifespan. Nowadays we expect more, especially in a regularly attending, well-motivated (flossing!) patient.
When it comes to bond strength, there's an element of luck. Dr Murphy has a patient with a porcelain veneer who visits every six months (since 1992!). It was bonded to porcelain on a pre-existing bridge which makes it quite unusual. He would stop short of suggesting it should be a national treasure but it's extremely rare!
If your circumstances allow we can do same day porcelain veneers here in Glasgow.
Same Day Veneers
It's an early morning start. We would normally expect these appointments to commence at 0830/0900 am.
Following adjustments and impressions, you will visit the lab (also in Glasgow's West End), where you will meet the porcelain technician. He will discuss shading and profile to get the desired effect.
You will return to the surgery at approximately 4pm for fitting.
Day Porcelain Veneers cost £450.
Today I had a first class experience with Brendan and his team at Crystal Dental Care. From the moment he started discussing solutions to the problem I had with my tooth I immediately felt reassured that I was in the right hands. Brendan carefully corrected my chipped tooth and I will be back to Crystal Dental Care again in 4 weeks time for my next appointment. I highly recommend this dentist to anyone!
Britney Stokes, Glasgow patient
Many patient love the time-saving convenience of same day veneers, particularly as they remove the need for temporary restorations and multiple appointments.
Read their case studies to discover how Jade from London and David who works in Azerbaijan put our same day service to good use to get their veneers done in double quick time.
Techniques for Porcelain Veneers
There are a few different types or names of porcelain veneers which have been recently put forward but broadly speaking the techniques remain the same.
In our Glasgow practice, so-called No Prep porcelain veneers are not an option. If you want something that is fabricated in such a thin section that it will fracture on the first contact with anything remotely challenging, then you should ask for these.
Preparation is good. It gives the technician room to do his work. You should always ask yourself the question: do I want my teeth to be more prominent? This is the best indicator of how much prep will be undertaken. In other words, teeth that are shorter, tilt back: these are ideal for minimal prep.
Prominent, longer and bulky teeth: normal prep is indicated here. This means 1mm reduction in length and 0.5mm from the outer surface. We can show you pictures of how the adjustments should look.
The main qualities of porcelain include its opacity and translucency which extend a life-like quality to the veneer. It also has a very high compressive strength when glazed in the kind of oven designed for dental laboratories. This strength is maximised by the quality of veneer fit.
By using the latest bonding techniques, we can ensure that a veneer strength is magnified by creating a sealed barrier of the most powerful dental cements in thin section.
Finishing is everything when it comes to the longevity of your porcelain veneer and the visual result.